Gold or Silver CIP or CIL Plant
HZE has made a number of projects of gold CIP (carbon in pulp) / CIL (carbon in leaching) solutions in the world and used unique advanced technology leaching tanks to improve gold recovery and reduce the consumption of chemicals and power. HZE has become a leader in gold processing industries with rich experience, exquisite technology and advanced processing.
HZE will conduct feasibility studies based on the condition of the raw ore, the metallurgical test report, the customer's mineral reserves and investment scale, and the conditions for building the plant, then propose a complete set of solutions for the plant which includes engineering design, equipment manufacturing and supply, logistics, installation, commissioning, training, trial production and so on to ensure advanced technology, perfect processing, efficient plant construction, reduced investment, environmental protection and maximum benefits.
The gold ore sent to the processing plant will be crushed, screened, and ground to obtain the appropriate particle fineness. The wood chips and fibers in the slurry are removed, then the density of the slurry is usually increased by the thickener followed by cyanide leaching.
In the case of CIP processing, the slurry is leached by cyanide or other chemicals in several leaching tanks, and then the slurry enters the adsorption tank loaded with activated carbon to recover the gold in the solution. In the case of CIL processing, leaching and adsorption are carried out simultaneously in a number of tanks. Now CIL processing is more widely used.
The activated carbon loaded gold is periodically lifted and separated from the adsorption tanks, then it is sent to the elution workshop after washing the mud and other impurities sticking on the surface of the carbon particles. HZE uses the advanced elution-electrowinning system with high-efficiency, energy-saving, high temperature and high pressure to produce gold mud. Each cycle of operation of this system takes only 10 hours to complete.
The gold mud is smelted to cast gold ingots after a series of processing: pickling, separating other metals, washing, filtering, drying, etc. The purity of the merging gold ingot can reach over 97%. If purification is required, further processing is required.
HZE strongly recommend that the tailings after leaching and adsorption are dewatered by the filters for the filtrate is returned back to the production water pond for recycling in the plant. The residual cyanide or other chemicals are reused, the consumption of the chemicals is reduced and the environment is protected, and the hazardous chemicals are prevented from being discharged outside the plant. After dewatering, the tailings are transported outside of the plant for storage.
The following flowchart shows the processing example of the gold CIL plant (crushing stage omitted):
Gold or Silver CIP / CIL Plant
---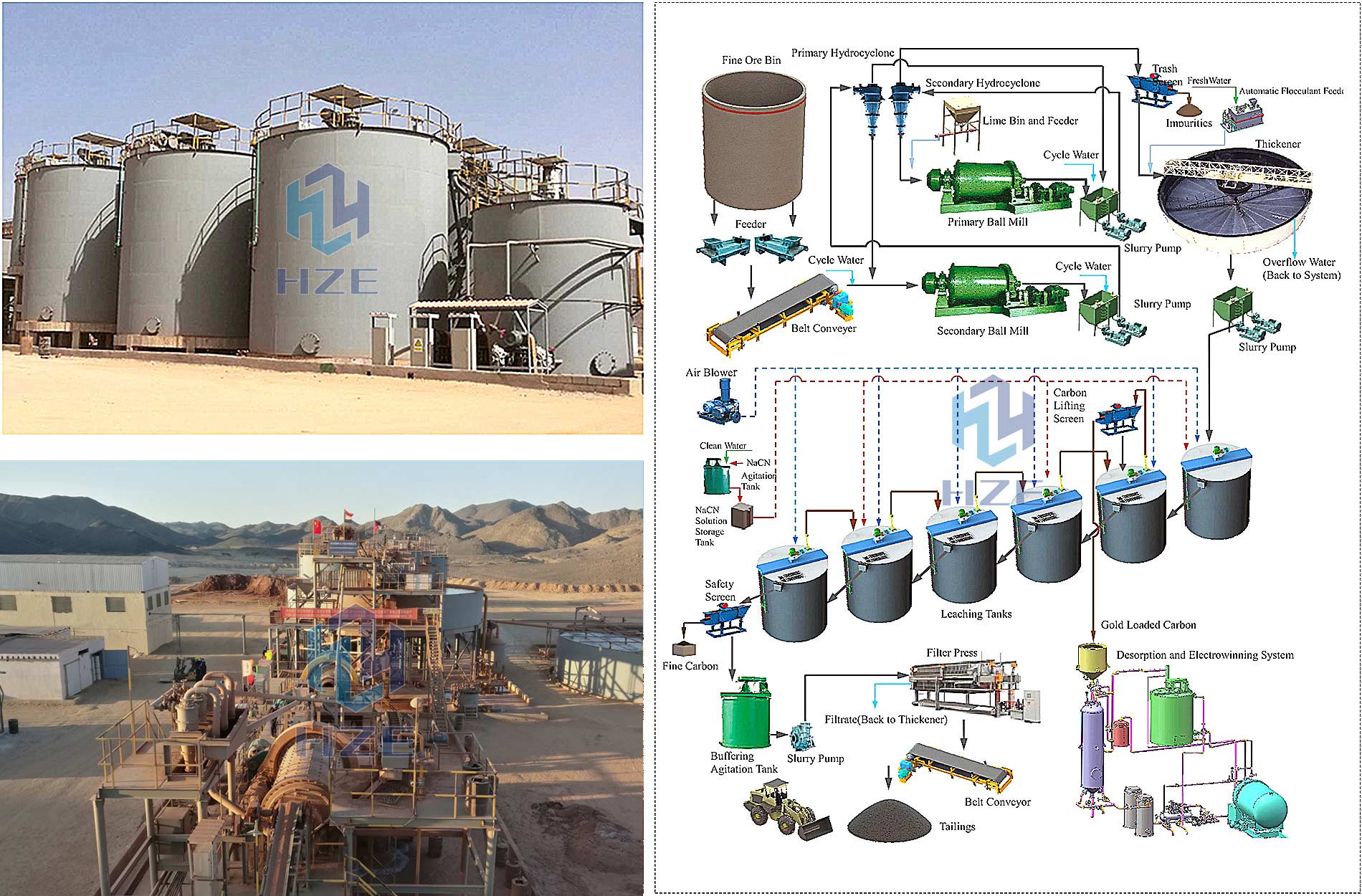 The Gold CIP / CIL Plant Common Mining Equipment:
1- Gold Processing Plant Jaw Crusher
2- Gold Processing Plant Belt Conveyor
3- Gold Processing Plant Vibrating Screen
4- Gold Processing Plant Ball Mill
5- Gold Processing Plant Spiral Classifier
6- Gold Processing Plant Hydrocyclone
7- Gold Processing Plant High-rate Thickener
8- Gold Processing Plant Cyanide Leaching Tank
9- Gold Processing Plant Trash Screen
10- Gold Elution and Electrowinning System
11- Actived Carbon Generator