Gold or Silver Froth Flotation Plant
HZE has extensive experience to recover gold, silver and other valuable metals by flotation, gravity, leaching and other processing to provide comprehensive services to large, medium and small-scale gold processing plants.
HZE will conduct feasibility studies based on the condition of the raw ore, the metallurgical test report, the customer's mineral reserves and investment scale, and the conditions for building the plant, then propose a complete set of solutions for the plant which includes engineering design, equipment manufacturing and supply, logistics, installation, commissioning, training, trial production and so on to ensure advanced technology, perfect processing, efficient plant construction, reduced investment, environmental protection and maximum benefits.
The gold ore sent to the processing plant will be crushed, screened, and ground, then the slurry enters the flotation stage generally. Flotation acts to sulfides and free gold normally, and it is necessary to use appropriate chemicals for slurry mixing and gold recovery by flotation. Generally the flotation circuit includes rougher, scavenger and cleaner to obtain a satisfactory concentrate.
If the ore contains some free gold particles, gravity separation equipment is generally added to the grinding circuit to recover the particulate gold.
If the ore contains many oxides, some gold is difficult to recovered by flotation. It is possible to combine flotation and cyanidation to increase recovery.
Gold ore may contain other valuable minerals such as copper, lead, zinc, iron, etc., which need to comprehensively recover mixed concentrates or by-product concentrates according to the specific conditions of the ore in order to obtain greater benefits.
The concentrate after flotation is generally dewatered by thickening and filtration, and then packaged and sold to the smelting plant.
The tailings after flotation are pumped to the tailings impoundment or the tailings are dewatered for dry pile store.
The following flowchart shows the processing example of the gold flotation plant (crushing stage omitted):
Gold or Silver Froth Flotation Plant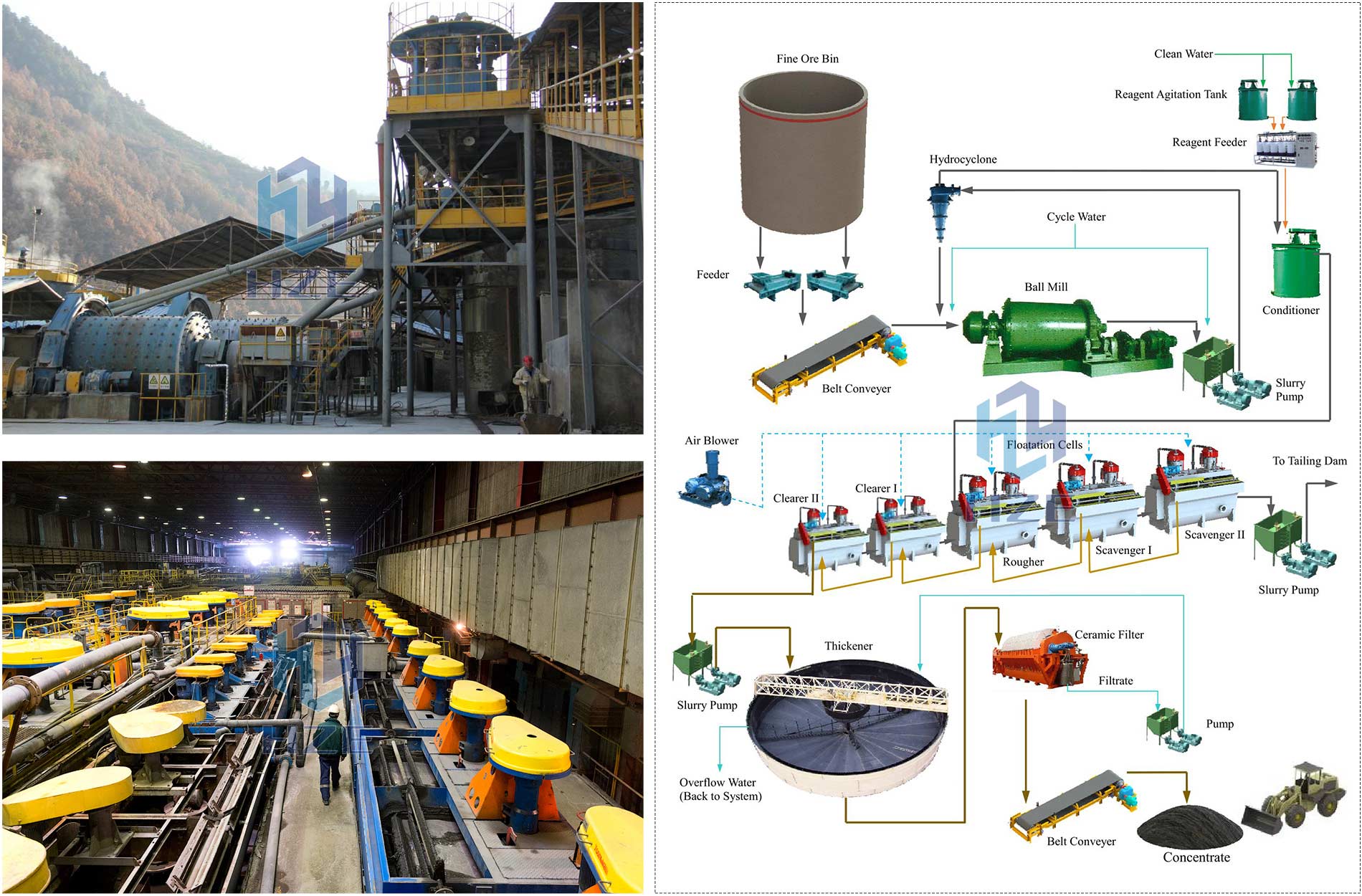 ---